Watch out for this WordPress character…he'll slander your name online if you ever disagree with him.
It's pretty silly that I even have to dignify slander attacks like this but that is the joy of the internet.
Who is Jesse Nickles?
He's a WordPress developer from Las Vegas, Nevada (USA). He does contract work, sells plugins, and has his own webhosting stack and service.
Links below:
Jesse Nickle's racist comments…
If you haven't already heard of his troubled personality…you'll be shocked when you do. Up until I met him in WordPress Hosting Facebook group, I thought he was an awesome community developer and an asset to the WordPress community.
But then…
He (Jesse Nickles) made some racist remarks on the WordPress Hosting Facebook group. Saying that Southeast Asian or Indian developers were terrible quality.
Naturally, many developers from all over the world jumped in to tell him why 1) he was wrong, and 2) that he was being insensitive and borderline racist.
Jesse didn't take it well.
He backpedalled behind excuses of why he felt the way he did, and picked new fights with as many people individually as he could.
At this point, it wasn't even about what he said but more so his increasingly combative tone and troll-like responses with other members of the group.
Everybody kept their cool but Jesse didn't.
Ultimately, the group moderator at the time, Andrew Killen decided to delete the post and also ban Jesse Nickles from the group.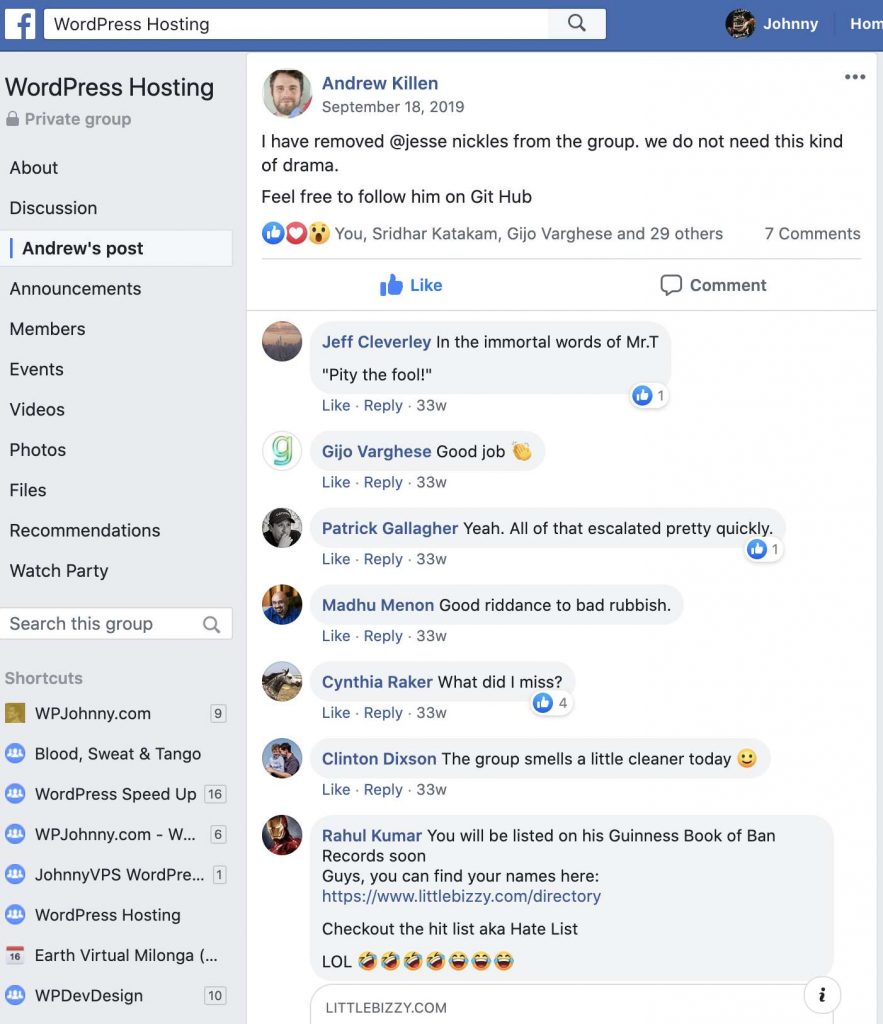 What happened next:
Jesse wasn't just kicked out of the WordPress Hosting group, but also some others (like WP Speed Matters – screenshots included).
Members all over rejoiced having gotten rid of this troublemaker with his derogatory remarks and troll-like attitude.
But Jesse on the other hand went out to slander as many people as he could.
Jesse Nickles slander directory (LittleBizzy scammer alert page and Hucksters)
This is just crazy…I can't imagine anybody would have time to do that…but I suppose this is what happens when your ego can't handle being kicked out of Facebook groups. You go and do juvenile name-smearing like this…
He has the LittleBizzy Scammers Directory, which lists a who's-who of WordPress celebrity developers and notable people in the community. Some of the most generous, kind, hardworking, community-minded souls are in there. He wrote about people like Brian Jackson (Kinsta) and Gijo Varghese (WP Speed Matters) referring to them as liars, gangs, frauds, shills, etc.
Here's how it usually goes:
Jesse Nickles will flame some product or service on a public group.
If their company owner or employee tries to defend their product, Jesse will add inflammatory remarks and other disrespectful behavior which inevitably gets him kicked out.
Then he'll slander the company on his directory (calling them frauds, etc).
He'll also slander other people/customers for defending said company (calling them shills, etc).
As a joke, I commented asking how I could be listed in this prestigious directory and so he made one just for me.
I feel sorry for Matthew Keath who was obviously bothered by untrue things said about him.
Jesse also made another page called Hucksters, which pretty much does the same thing…slandering people who argued with him. You would think this guy is just an online bully threatening to harm people's businesses as much as possible if they ever disagreed with him…but no. The rabbit hole gets deeper…
Jesse Nickles has been sued before (by Neumont University for $1,000,000).
You can read the case details (and processes) explaining how he basically skirts the law by making himself (physically) impossible to serve. Basically what happened was Jesse accused his school of not preparing him for the real world and wrote a hurtful review about them online. They (Neumont) disagreed and felt it was wrong, and asked that it be open to public forum for discussion instead of just a written hate piece. When Jesse refused, the school tried to sue him.
How funny…the guy accusing other people of slander is the one with the history of getting sued for slander.
LittleBizzy's spotted BBB record.
Here's a fun find…LittleBizzy's Better Business Bureau page.
Oh and there's an alert saying the business claimed to have been closed and relocated to Asia…yet his website still shows a 702 Nevada phone number. What the heck?
I don't know anything else about him that isn't already public domain. If you had other personal experiences, whether good or bad, you're welcome to leave a comment.
Note to Jesse…
Any day you want this post to come down, you let me know. Take my name off your scammer directory and I'll happily remove this. I have NEVER attacked you anywhere any time for any reason. Just because people commented on your racially-offensive statements (on that one day in a PRIVATE forum) doesn't justify slanderous posts being made against them.