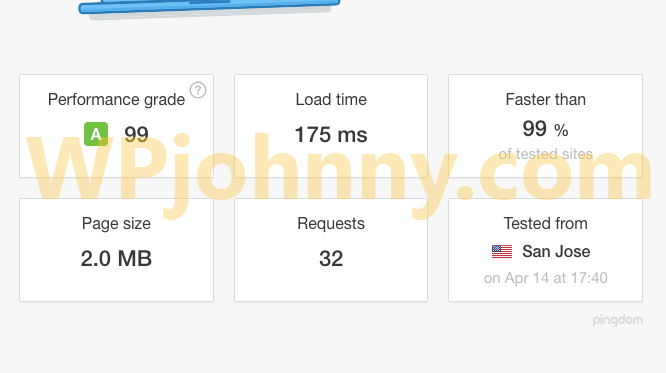 Fix your slow WordPress website!
10+ years experience of speeding up slow WordPress sites.
Speeding up WordPress sites is my addiction! If there's even a 50ms improvement anywhere to be had, I will tell you about it. Having managed various sites from hundreds to millions of visitors, I believe page speed is important for any website, especially businesses. Much better user experience (especially on mobile), decreased server loads, and more conversions/sales.
Why is your site so slow?
Loading webpages is like pushing a car uphill. Either you increase the engine capacity (better webserver) or lighten the car (decrease code). The problem with many sites is slow servers and/or bloated code. One common tactic is installing more software (caching), adding more code in attempt to "lighten" existing code. But this often fails as you can only lighten the code by removing it, not by adding to it. Adding code increases the chance of conflicts…breaking your design or functionality.
My speed philosophy:
Decrease code, not add to it.
Optimize for users, not test scores.
Caching is last.
Page loads must be INSTANT, not 1 second.
My sites are record-breaking fast because I manually optimize the code instead of relying on plugins and hacks. I set up caching only after everything is manually-optimized. Using caching first is only a band-aid fix that only decreases page weight and database queries on the cached copy of your site instead of your site itself. Doing it right not only gives you the best speeds but far less design/functionality issues in the future.
Optimizing for users is still something that's not understood. Many people don't know any better, chasing that perfect A+ 100/100 Google score without understanding it's implications. Those scores are simply guidelines, nothing more. Hacking your site to score high can in fact make your site load slower for users and only further defeat the purpose of using those test scores.
I like instant page loads and nothing else. It needs to appear right away as if it was already on your computer. Any perceived "load" time is too long for me. It is truly magical and life-changing when your site is so fast like you never thought would be possible.
Built and optimized hundreds of sites of all kinds.
Simple blogs – minimal scripts
Big online magazines – many posts/images, full of ads & affiliate tracking
Photography/portfolio sites – huge images, fancy JS animations
WPML/Polylang multilingual sites – database heavy, many languages & strings
E-commerce – WooCommerce, dynamic cart fragments, heavy CSS/JS
Membership sites – MemberPress, RCP, EDD, affiliate tracking
Learning sites – LifterCMS, LearnDash
Forums – database-intensive, logged-in users, private caching
Familiar with many hosting environments:
Server stacks – Apache, LiteSpeed, NGINX.
Shared hosting – GoDaddy, BlueHost, SiteGround, 1and1, Hostgator, Inmotion, WiredTree, BellHosting, etc.
VPS – Digital Ocean, Linode, Cloudways, Vultr, Scaleways, etc.
Managed WordPress hosting – WPengine, Flywheel, Pantheon…yes, these premium services can be sped up, too!
100% MONEYBACK GUARANTEE
A client asked me a few weeks ago "What happens if you can't speed up their site?" Yes, you would get your moneyback in that instance. With that said, nobody ever got their moneyback.
I've been doing this for a long time and very familiar with nearly all the most popular WordPress themes and plugins of the past decade. I can you very quickly (even without logging in) if I can drastically speed up your site or not.
There were even instances where a site felt too fast or too slow to be sped up, and yet I was later surprised how much speed I got out of it.
FREE SPEED-UP PACKAGE ($0)

~1-3 seconds
I love helping people! Read my free optimization guides at no cost. (Your results may vary depending on skill/experience.)
PREMIUM SPEED-UP PACKAGE ($350)

~1 second loads
Speed-testing and diagnosis – checking your current speeds and finding bottlenecks
Webhost migration – many issues come from poor webhosting, I can migrate you if you'd like to try another host.
Server tweaks – php, mysql
theme and plugin tweaks – manual optimization tactics
Database clean-up
htaccess tweaks
CDN tweaks – for those with CloudFlare, etc
cache plugin installation & optimization
Contact me to get started!
ENTERPRISE SPEED-UP PACKAGE ($995-2995)

~500ms page loads
everything from basic speed-up
manual hard-coding of themes & plugins
database clean-up
no stone left unturned, I optimize EVERYTHING!
This plan is for serious sites/businesses only. Ones with thousands of visitors and tons of sales. Even 100ms can make a world of difference, especially for mobile users! (100ms delay on desktop can mean 500ms delay on mobile.)
Contact me to get started!
Real Page Scores (before & after)


Super bloated site on awful shared hosting. Bloated WooCommerce site with pagebuilder. Sliders/carousels/animation elements, many 3rd party scripts and social calls. Took me a good couple hours trimming stuff out, and even resolving mixed content issues with old http links. The site is actually in Canada and loads faster for their local visitors. In real-time, loads went from about 8 seconds per click down to almost instantaneous.

Incredibly laggy site. Had a booking system with tons of images and scripts. I was able to bring down the load times within a few hours of work.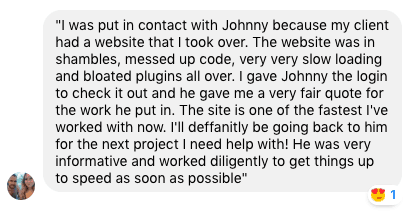 I'm always grateful to see happy customers and people who appreciate my work. Some jobs do take forever.


Really fun to help out a close friend. She's got a growing site that using bloated pagebuilder. Heavy blog with many images and many 3rd party ad-scripts. Also social embeds. Real-time loads went from 12 seconds per click down to instantaneous. I was able to bring her down to about 3-4 seconds on her previous shared hosting. Then migrated her over to my webhosting service to get the instantaneous speeds you see now. (She'll be migrating to a new theme soon.) The impressive thing is how fast her bloated pagebuilder was able to run. No loss in features or functions!
Johnny is a very experienced and helpful WordPress expert who increased my site speed exponentially. My webpage went from 10-13 seconds on every click down to now instantaneous, even on my phone! The site is crazy fast, holy sh*t, insane. I had no idea my site could be this fast, it's 1000 times better.

– Kristin Hanes (www.thewaywardhome.com)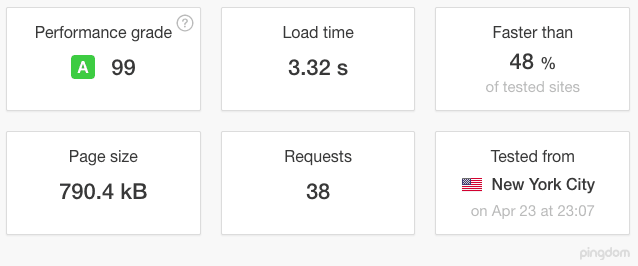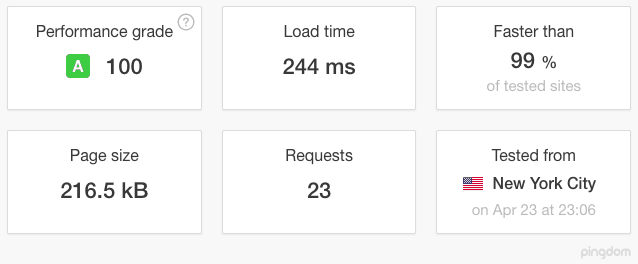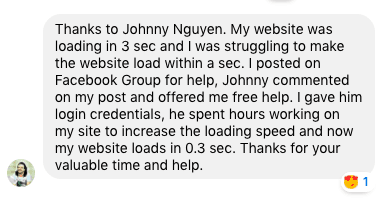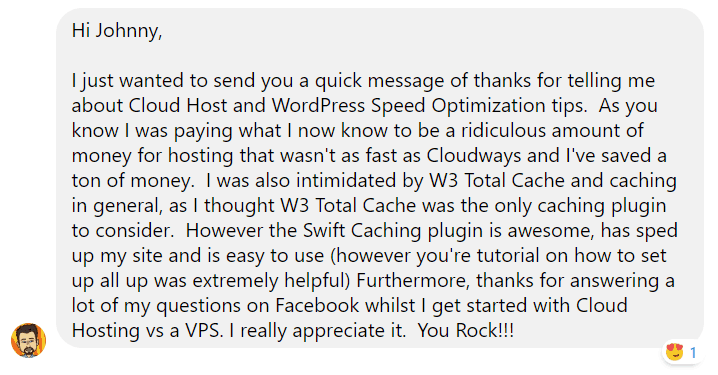 This was a free job that I did. He had a simple site that was already built efficiently but still took forever to load. I optimized his server configuration, setting up new modules and implemented a special caching solution just for his scenario. It goes to show that even the leanest sites can be optimized so much further.
[afs]
[afs]
Slow WooCommerce site using minimal theme but awfully slow web server. This was more of a server-performance tuning rather than website-tuning.
I was having a hard time with different VPS hosting providers.  Support (at Inmotion VPS) was horrible and almost non-existent even though I was paying high prices.  My sites were slow.  The load times were between 3-5 seconds consistently, and that was with caching plugins and CDN's enabled. I was at the end of my rope, and then I met Johnny.

I was a little nervous at first but now I am glad I made the shift and have no regrets.  At the time I transitioned three live sites, and one of them was running live Facebook ads.  And yet, the move was seamless with his help.  I didn't miss a beat.  I was blown away by how helpful he was. He went above, and beyond, and I tell you this, he has a friend for life, not just a customer.  He pretty much saved my business.  Where all the other providers failed, he delivered.

All my sites are now on his stack.  Once he optimized the themes I was using, my load times went from 3-5 seconds to under 1 second, and that was without caching. Once we stabilized, he added caching back in, and wow!  My load times dropped to under 800ms consistently for my main page and for my store it fell to 650ms.   I am completely blown away by the performance and support offered by his service.

When you need help, he is there for you when you get stuck.  If you want someone that knows what they are doing inside and out, and that can take your site to the next level, I would highly recommend Johnny.

– Kevin Saitta



This one was just a free community service. He had an awfully slow server, inefficient theme, and heavy Google Maps script loading right on the home page. I couldn't make his site as instantaneous as I'd like but was able to improve the real world speeds by a lot. Don't be fooled by the "7.1s" loaded time. His onload time felt more like 2 seconds which was a huge improvement to his 10+ onload times before.